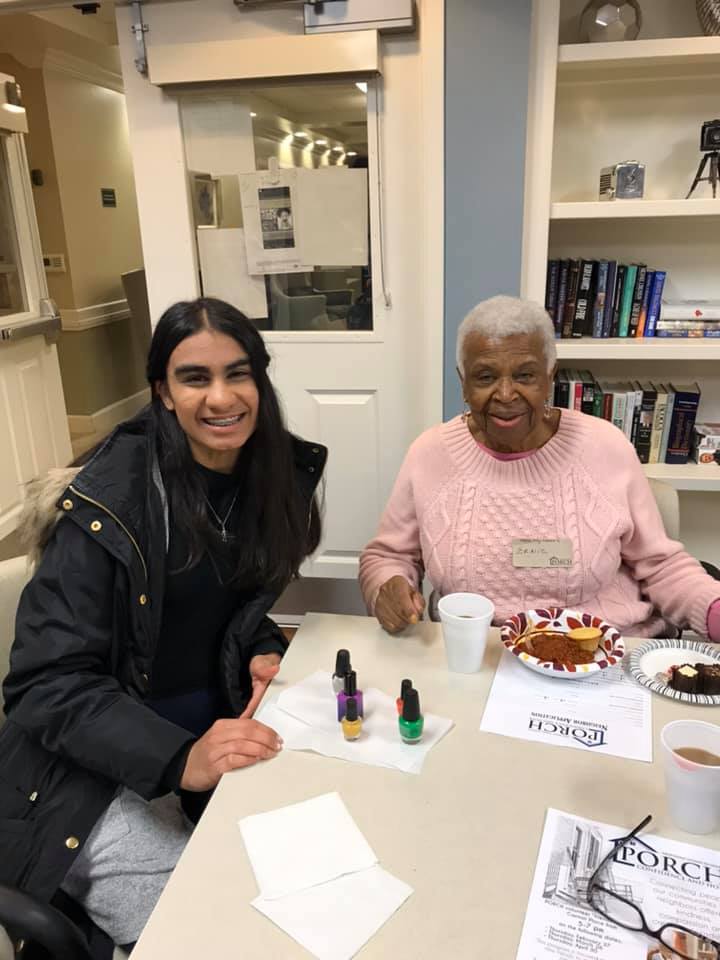 In 2017 the staff and several volunteers met a Canton woman who was experiencing every type of hardship you can imagine. Many people worked for more than a year to help her with the challenges she was facing.
One day, while driving and having a simple conversation with her, a staff member asked her what the one thing was that she really needed. The answer was astonishing…all she wanted was a friend. And that was the beginning of PORCH.
Our mission is to connect people in our communities with neighbors offering kindness, compassion and creating friendships.
Why Do We Need PORCH
Loneliness and social isolation can be as damaging to a person's health as smoking 15 cigarettes a day.
Two in five Americans report that the majority of the time their social relationships are not meaningful.
One in every five Americans say that they feel lonely or socially isolated.
The "PORCH" initiative aims to combat "an epidemic of loneliness" among seniors through weekly phone calls, home visits and community programs.
In every community there are people with lonely lives, but there are also people of good heart who want to help their neighbors in need.
PORCH has been created to bring people together.
Participation is open to everyone 18 and older, and is a wonderful opportunity to serve your community in a rewarding way.
A simple background check and training are required for all PORCH volunteers. There is no financial obligation attached in becoming a PORCH volunteer and it is a free service to the community.

Frequently Asked Questions
Why do we need PORCH? A needs assessment was conducted in Canton it was found out that there is an issue of social isolation and loneliness in our community. PORCH was the result of that discovery to help our residents (young and old and in between) to live a full and active life.
Who can volunteer for PORCH? PORCH recruits' volunteers 18 years and older to donate their time to visit those in our community who are alone, homebound or lonely. All the volunteers undergo a background check and a training session. The training helps the volunteers understand the social aspect and safety concerns. Every volunteer gets a PORCH badge which they wear at the time of visit.
Where do volunteers go? We have discovered that many of the senior residential facilities and nursing homes have a great deal of clients who love meeting new people and seeing visitors. PORCH staff works with management of these facilities to plan monthly group outings. Each month a group of trained PORCH volunteers meets residents of the facility in a common area to spend quality time, play games, enjoy snacks and enjoy time together.
If I want to have a PORCH volunteer visit me, do they come into my home? The visits don't have to take place in the homes or apartments. It can be in the common areas or somewhere where both the parties feel comfortable to meet.
Who can use PORCH services? We are currently limiting the services of our volunteers to Canton residents. To request a volunteer we ask that you simply fill out a PORCH "Neighbor" application on our website. Once we receive your information, a staff member will contact you with next steps.
This is a free service and completely voluntary. If at any point the volunteer or the person he/she is visiting doesn't feel comfortable with the set up, they can stop the visits and request for a different volunteer.
Please don't hesitate to ask any questions or concerns.
Contact: Mili Tandon (Office) 734-495-1200 (PORCH Cell) 734-664-0327
Our mission is simple – not to let anyone feel alone.